L'Original: the 'firstborn' of the label
L'Original is the ideal handbag, with its classic form and perfect proportions: change the sides and handles and its originality will bring an extra hint of glamour to your outfit.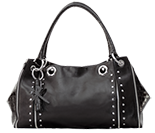 Le 42 : A handbag for town - 2 in 1, chic and classy !
Pour vos journées actives et bien remplies, adoptez le 42 : en grand modèle, il s'adaptera à toutes vos envies en toutes circonstances ; puis au cours de la journée, transformez le en petit modèle, il deviendra un sac classique et intemporel pour mieux vous accompagner, à vous de choisir…

Le Tote, the IT bag par excellence !A practical and functional work bag, with adaptable straps for a short handle or to be worn swinging from the shoulder, the stylish and elegant Tote is ideally sized for you to carry your notebook or tablet with you everywhere.
For busy women who need to stay connected wherever they are.
Le '67, chic and timeless
With its elegant and simple shape, fashioned from two complementary leathers, you won't want to leave Le '67 behind.
The small version is perfectly practical and stylish; with its adaptable elements, it can be turned into a roomy bag with an extra pop of colour.
Le S, the messenger bag restyled by Sophie Victor !
With pockets large and small designed to hold your laptop or your tablet as well as your files and accessories, not to mention all the other bits and pieces you need to carry around - whether you're a student or a business woman, Le S is the bag for you.


Le 13, a combination of elegance and retro style
With its "belt handle" that allows you to carry it in different ways (as a shoulder bag or a handbag) and its roomy shape, le 13 is capacious and comfortable – ideal for carrying your laptop or tablet with you, with pockets for your wallet and all your other small accessories.